The World of
Pharmaceuticals is
taking exciting new
strides ahead

Pharmaceuticals: one of the human race's most amazing ventures. Thousands of brilliant minds driving the complete understanding of life sciences deeper and deeper into the workings of the body. Alongside,the Pharmaceuticals Industry is turning billions of invested dollars into the products that are enhancing and saving lives across the Globe.


In manufacturing and distribution these amazing ideas and realisations are turning into products that we deliver safely, accurately and appropriately to millions of patients worldwide, all with efficiency and minimum cost. No simple task!


To make the challenge even more exhilarating, we are in an era of major changes in the Pharma Industry.


Download PDF
Register today for regular news and advice on industry trends and the latest coding and marking solutions.
Moving
on from the
'Penicillin'
era of widely applied drugs
and massive sales
The 'Big Hitters' of the Penicillin era are a reducing factor in the flow of products – and profit – as patent protection expires and new important and wide-ranging products become increasingly difficult to find and develop.
Indeed, when patents on 'blockbusters' like Lipitor run out, generic competition ensures that prices collapse quickly – sometimes to a tenth of their former levels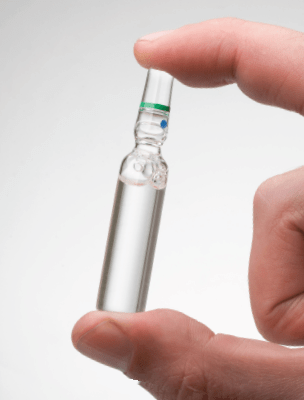 For 66% of production lines not serialisation ready, no action is planned for the next 12 months

Videojet offers a range of products and support to deliver high quality traceability codes for the full range of pharmaceutical packaging. Advantaged printers coupled with a broad portfolio of inks produce high quality Data Matrix codes.
Long-standing relationships with pharmaceutical OEMs allow Videojet to ensure its printers are properly integrated as part of a full system.
View Products
The Complexity of Targeted Medicine – the new challenge for Pharmaceuticals development and production
The emphasis is shifting to targeted medicines. With dramatically expanding knowledge of the nature and role of genes and proteins, genomics and proteomics, we are developing an understanding where 'customised' drugs are available to address the individual's own specific problems.
All of this means an explosion of complexity in Manufacture, Packaging and Delivery.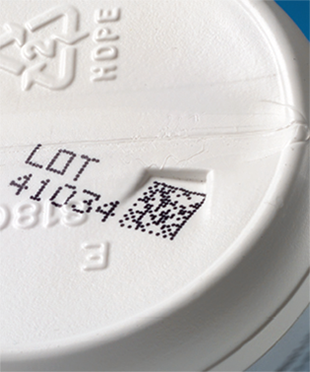 … while the geographic focus is also shifting
The 'Sleeping Giants' – China, India, Indonesia,
Russia, Brazil – are slowly awakening, presenting
both a massive new population of potential consumers and a new geo-location of important new players and producers in the Industry. With the expanding range of sources of drugs, especially in the generic field, identifying and tracking each package becomes crucial.
Ensuring the correct drug delivered to the correct patient while respecting the Hippocratic imperative – 'Do no harm!'
We are Marking and Coding and we can make a unique contribution
In our subsection of this exciting world: Marking and Coding, we have some exciting technologies and offerings to help you meet the rigorous demands of risk management, accuracy, traceability and safety all within squeezing constraint of cost.
Download PDF
FOR EXAMPLE
The 2D mark for coding
and tracking bottles and vials
Under the new EU Falsified Medicine Directive, as of Feb 2019 virtually all prescription medicines will have to be provided with a unique code number".The 2D digital code can apply substantial information, quickly and accurately allowing each and every package to be fully traced back to source.
It is essential that this complex code is applied with the highest quality. The available "real estate" for the given code can often be quite small, requiring not only a precisely printed code but precision in the placement of the code itself.
The variety of bottle and vial form factors often demand specialised material handling which combines tight integration with the coding and marking devices. Plus, of course, the bottles or vials may go through an autoclave process downstream of the coding station – this, of itself, puts tight demands on the resilience of the mark.
View Film
Effective marks on materials that have been chosen for their enhanced packaging characteristics
New package technology is realising the contribution of novel materials such as polyolefins which exhibit minimal degradation to biochemical products as well as providing safety in handling and easy dispensing. The challenge is to provide really effective and inexpensive coding. The otherwise mark resistant HDPE, for example, can readily be coded with direct marking; created rapidly and at minimum cost by a UV laser. The 355 nanometre UV laser interacts with the HDPE surface to create a dark, permanent, high resolution Data Matrix code against a light-coloured HDPE substrate background.
Download PDF
---
Marking and Coding – minimising the Cost of Ownership
We recognise that you need to work your production lines full time and at minimum cost. We are always striving to develop products that enable you to achieve maximum throughput.
We see this as where we can make our most significant impact – helping you achieve maximum with highest reliability and flexibility. Each piece of Videojet equipment is designed to minimise its own cost of ownership while ensuring maximum up time for the whole line.
Maximize TCO
Making Production more efficient,
flexible and ready to respond
Continuous process is becoming progressively important with emphasis being placed on deploying equipment and technologies that enable higher production yields, the reduced need for purification and more rapid scale-up and commercialisation. Videojet coding technology is perfect for these requirements. It is universally compatible, easy to set-up, highly flexible to changing requirements with scaleability as standard. Videojet technology makes marking and coding immediately accessible, compatible and adaptable, ready to operate alongside bespoke engineered production systems. Recognising that timing is so important to securing contracts and meeting customer expectations, Videojet can get installations quickly up-to-speed for contract fulfilment.
Download PDF
A new type of patient – Internet Purchasing and Self Administrating requires more information in already small spaces.
The rapidly developing self-administration culture comes laden with responsibility – requiring even higher and clearer levels of communication with patients. Drug suppliers need to integrate extra information into what is already crowded real-estate – while, at the same time, controlling costs.
Marking, coding and labelling will need to make use of more surfaces, often on complex substrates. For us in the coding business this calls for greater flexibility and efficiency of printing technology which can fulfil these requirements without increasing processing time to help recoup the cost of more bespoke coding.
Laser 2D coding provides an Unbroken Chain of Traceability to Combat Counterfeiting
With Markets and Products proliferating, counterfeiting is becoming a powerful threat to our Industry.Data Matrix 2D has become the standard carrier for International Coding, enabling,as an example, the EFPIA suggested code which includes the Manufacturer's product Code, a Unique Serial Number, the Expiry Date and the Batch Number.

The recommended 'Bookend' Strategy , together with the PILL information access provides the compliance required to ensure that the patient is delivered the correct dose of the right drug from the identified source.
View Film
Marking and Coding – an important piece in the puzzle
The challenge is intimidating! The sheer variety and complexity of targeted medication, set alongside massive new marketplaces, opening up with new and unproven competitors in Generics, while the old 'Block Busters' take a smaller share.
In this new environment the Industry recognises it's responsibility to deliver drugs safely, accurately and appropriately to the hundreds of millions of patients worldwide with efficiency and minimum cost. We understand the challenge and we are applying our expertise in Marking and Coding to help make that difference.
Download PDF
The highest quality products deserve
the highest quality codes.
Our CO2 laser solutions give you a superior code quality
across a wide array of challenging substrates.